Wiele osób, które dopiero rozpoczynają swoją przygodę z SEO, przegląda z zainteresowaniem oferty agencji, które obiecują tanie oraz skuteczne wypozycjonowanie strony. Nasza strona www nie wyczyści w nadmiarze portfela- to się zgadza. Możliwe, że pozycja strony podskoczy w górę- to też prawda. W czym wobec tego tkwi problem i czym tajemnicze black różni się od white hat seo?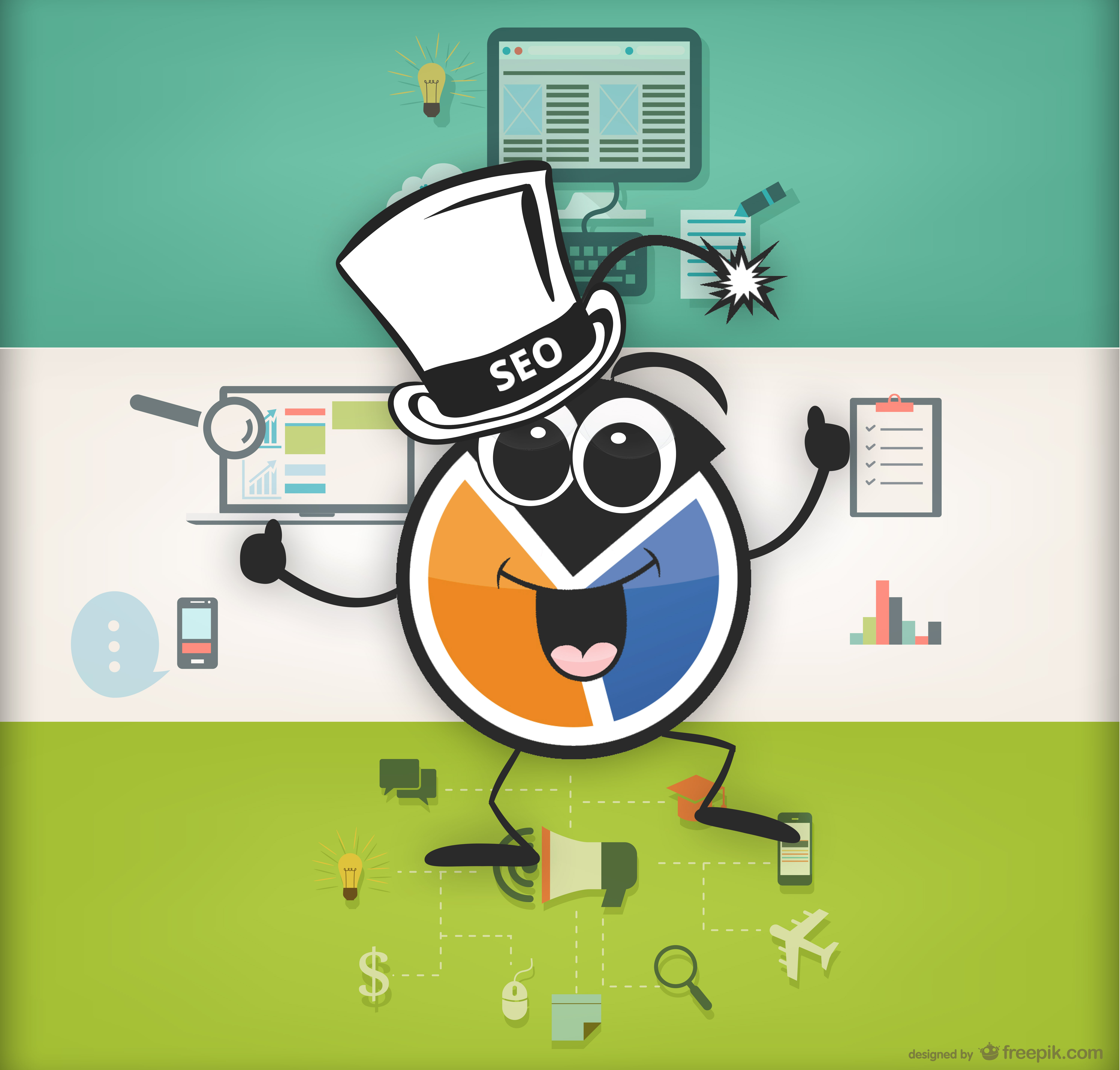 Pokusy silnie działają na człowieka- są przecież nieodłącznie związane z naszą naturą. Wyobraźmy sobie Janka, który właśnie kupił mieszkanie i nie może się doczekać, kiedy je wykończy i będzie się mógł wprowadzić. Otrzymał dwie oferty od firm remontowych, które są chętne wykonać wszystkie niezbędne prace w mieszkaniu- pierwszą od firmy Diabełki, a drugą od firmy Aniołki.
Propozycja Diabełków wydaje się być właściwie nie do odrzucenia- gwarancja bardzo szybkiego całkowitego dokończenia prac oraz zaskakująco niska cena. Niestety wiąże się ona z tanimi materiałami słabej jakości, których używa firma. Diabełki nie oferują też żadnego okresu gwarancji na swoją pracę, a jedynie wykonanie drobnych poprawek w ciągu miesiąca.
Oferta Aniołków nie jest co prawda z góry tak atrakcyjna, lecz posiada inne atuty- oferuje materiały remontowe najwyższej jakości oraz rzetelne i staranne podejście do wykonania robót. Firma ta wprawdzie nie obiecuje, że mieszkanie będzie gotowe już po kilku dniach, ale za to oferuje swoim klientom długi okres gwarancji. Tak jak Janek wybiera pomiędzy ofertami firm Diabełki i Aniołki, tak właściciel strony www może wybrać pomiędzy techniką white hat oraz black hat seo.
Dwa różne kapelusze
Techniki SEO można podzielić właśnie na te dwie szerokie kategorie. Współcześnie funkcjonujące algorytmy wyszukiwarek preferują techniki white hat seo. Jednocześnie starają się one również minimalizować wpływ działań "black hatowców" na swoje wyniki, aby jak najlepiej sprostać potrzebom użytkowników.
Jako white hat SEO określa się techniki pozycjonowania, które stosuje się zgodnie z wytycznymi wyszukiwarek. Ponieważ nie kryją się za nimi podstępy czy próby ominięcia algorytmów, nie są one zagrożone konsekwencjami, ani "karami" od Google w postaci nagłego spadku pozycji. Co oznacza jednak fakt "podążania za wytycznymi wyszukiwarki"? Nie chodzi tu z pewnością o trzymanie się ścisłych przepisów, nakazów i zakazów. Główną wytyczną jest treść. Powinna ona zostać dobrana w taki sposób, aby po wpisaniu konkretnej frazy i wejściu na naszą stronę użytkownik mógł znaleźć na niej to, czego szukał i co go w rzeczywistości interesuje. Celem white hat seo jest więc tworzenie treści pod użytkownika, a nie pod algorytmy.
Przeciwieństwem powyższej metody pozycjonowania stron jest tzw. technika black hat SEO. Polega ona na szybkim i sztucznym podwyższaniu wyniku w wyszukiwarce poprzez stosowanie nieetycznych metod. Zalicza się do nich ukrywanie treści poprzez nadanie jej koloru tła strony albo umieszczenie jej poza obszarem widocznym dla użytkownika. Popularny jest spamdexing (utworzone od ang. spam oraz indexing) oraz keyword stuffing, czyli "napychanie" możliwie dużej liczby słów kluczowych bądź wielokrotne powtarzanie pewnych informacji w celu osiągnięcia wysokiej pozycji w wyszukiwarce. Istneieje również cloaking polegający na prezentowaniu w wyszukiwarce treści interesującej dla internauty, która jednak dopiero po wejściu na daną stronę okazuje się być czymś zupełnie innym niż oczekiwano (technika często stosowana przez strony pornograficzne). Wielu seowców podbija pozycje stron tworząc doorway pages, czyli strony powstające wyłącznie dla celów black hat, na których zamieszcza się linki do tych stron, których pozycja ma pójść w górę.
Którą ofertę wybrać?
Porównując się do Janka, który rozważa za i przeciw obu firm remontowych, my możemy rozważyć wady i zalety obu technik optymalizacji. Diabełki symbolizują black hat SEO, czyli efektywną jedynie na krótką metę technikę podbijania pozycji strony. Oczywiście, możemy zapłacić komuś za stworzenie ukrytych treści czy dodawanie wielu linków do naszej strony, ale w każdej chwili musimy liczyć się z konsekwencjami. Strona może zawieść albo nas- nagłym spadkiem pozycji, albo potencjalnych odbiorców, którzy nie znajdą na niej treści, których szukali i zostaną zniechęceni niepotrzebnym wejściem na naszą witrynę.
Algorytmy wyszukiwawcze są w obecnych czasach coraz lepiej i efektywniej dostosowywane do znajdowania treści, które internauta w rzeczywistości chciałby zobaczyć. Podążają one za stronami bogatymi w treść oraz ciekawe, sensowne opisy czy tytuły. Oprogramowanie GranateSEO, jako profesjonalne narzędzie do pozycjonowania stron, powstało, aby ułatwiać właśnie taki, preferowany przez wyszukiwarki proces optymalizacji. Użytkownicy oprogramowania nie muszą opierać się na stosunkowo łatwej i nieefektywnej technice black hat SEO, ponieważ program wykonuje za nich większość żmudnej pracy przy pozycjonowaniu. Wszystkie porady, sugestie i błędy znajdowane przez GranateSEO są oparte na white hat SEO, dzięki czemu zastosowanie ich nie wiąże się z ryzykiem narażenia się Google'owi.
White hat SEO, podobnie jak oferta Aniołków, nierozerwalnie łączy się z długotrwałym budowaniem świadomości marki oraz z marketingiem internetowym ukierunkowanym na racjonalnego odbiorcę. Odpowiednio prowadzona optymalizacja strony będzie zwiększać jej atrakcyjność "na rynku" wyszukiwarek, a tym samym prowadzić do coraz większej liczby wizyt internautów. Jednak jej najważniejszą zaletą jest brak ryzyka utraty pozycji strony. Dzięki temu możemy być pewni, że nasza odpowiednio wypozycjonowana strona będzie stale cieszyć się popularnością wśród klientów, czy osób zainteresowanych treścią, którą przekazujemy.