Pod koniec 2014 aż 2,5 mld razy łączyliśmy się z siecią, korzystając ze smartfona czy tabletu. Nie powinno nas więc dziwić, że wyszukiwarka Google wprowadza coraz więcej rozwiązań przeznaczonych dla użytkowników mobilnych, które mają ułatwiać im surfowanie w Internecie.
Przewiduje się, że w 2015 roku wolumen ruchu mobilnego w Google Search wyprzedzi wyszukiwania z komputerów stacjonarnych czy laptopów. Warto więc poważniej przyjrzeć się wynikom badań dotyczących różnic w pozyskiwaniu ruchu z poszczególnych pozycji na desktopach i w mobile.
Największe i najbardziej niezawodne badanie CTR
W 2014 roku SeoClarity przeprowadziło niezwykle znaczące badanie CTR. Ich zespół przeanalizował ponad 2 miliony wyświetleń i ponad 2,6 miliona kliknięć. Dane zostały zebrane w ciągu 90 dni z prawie 400 kont webmasterów używających Google Tools i stanowią najbardziej rzetelne badania w tej kategorii.

Co pokazują wyniki?
Wyniki przedstawione przez SeoClarity jednoznacznie pokazują jak istotna jest pierwsza pozycja w Google przy wyszukiwaniu mobilnym. Wyniki prezentują też, jak bardzo zmienia się dystrybucja CTR w zależności od typu urządzenia, z którego użytkownik wysłał zapytanie.
Poniżej przedstawiam 2 wykresy, kolejno współczynnik klikalności dla urządzeń desktopowych i współczynnik dla urządzeń mobilnych. (źródło: http://www.seoclarity.net/)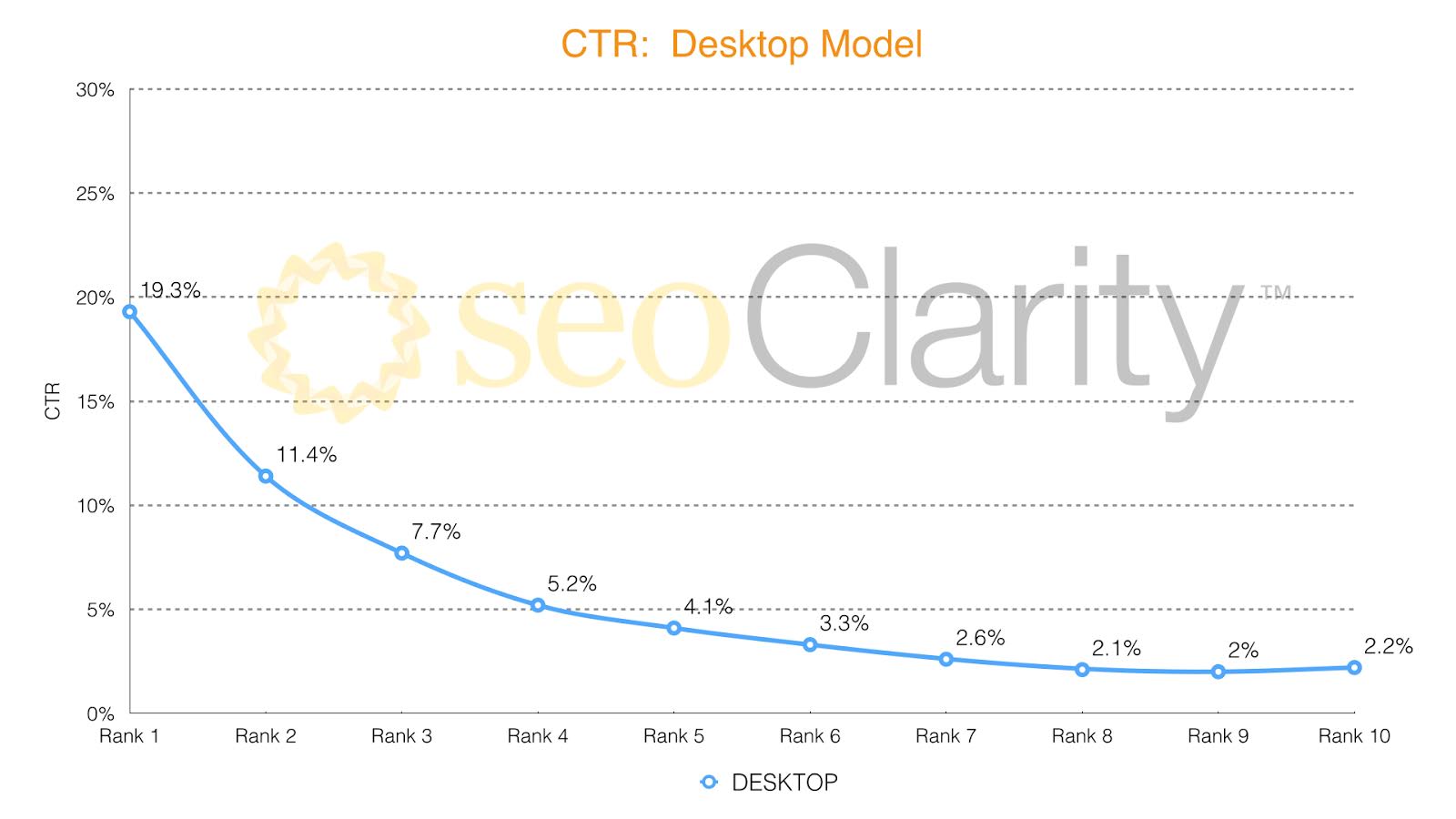 Wykres I. Współczynnik klikalności dla urządzeń desktopowych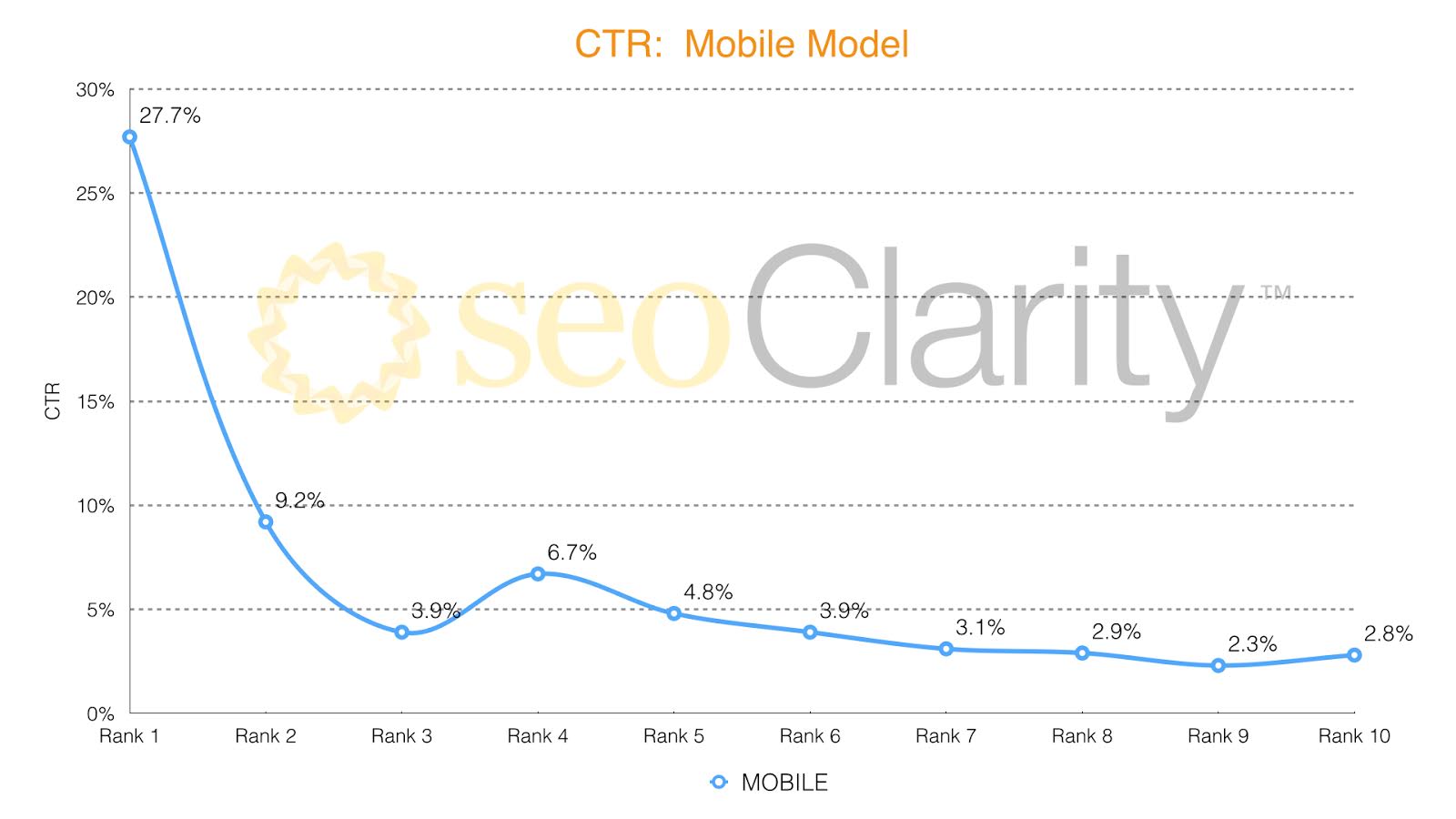 Wykres II. Wskaźnik klikalności dla urządzeń mobilnych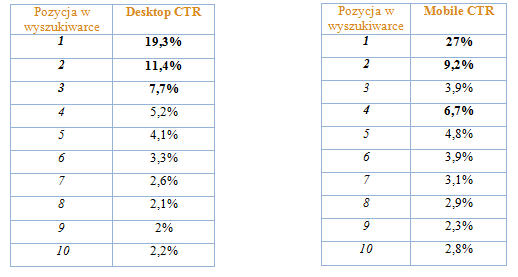 Zarówno w przypadku urządzeń mobilnych jak i desktopowych zauważyć możemy duży wzrost procentowy CTR miedzy pozycją 2 a 1 w wyszukiwaniu.

Urządzenia mobilne
Pierwszy wynik w rankingu, a zatem najwyższy współczynnik klikalności to 27,7% wszystkich kliknięć. Na drugiej pozycji wynik spada do zaledwie 9,2%, kolejno do 3,9% by w przypadku pozycji czwartej nieoczekiwanie wzrosnąć aż do 6,7%.
Wyniki sugerują, zatem, że pozycja pierwsza dla urządzeń mobilnych jest aż 3-krotnie bardziej wartościowa niż pozycja druga. Jak zdawać by się mogło kolejną wartościową pozycją powinna być pozycja trzecia, jednak nie, dla urządzeń mobilnych! Warto zwrócić na to uwagę! Nieoczekiwanie czwarte miejsce w Google w wyszukiwaniu wcale nie musi oznaczać niskiego CTR. Wręcz przeciwnie. Współczynnik klikalności dla pozycji czwartej jest prawie 50% wyższy niż dla pozycji trzeciej.

Desktop
Wyniki dla urządzeń desktopowych przedstawiają się w następujący sposób. Spadki procentowe są równomierne dla kolejnych pozycji. Procent CTR dla pierwszej pozycji to 19,3% CTR. Druga pozycja to 11,4%, a trzecia 7,7% Spadki nie są, zatem bardzo spektakularne.
W podsumowaniu warto wspomnieć, dlaczego dostosowanie strony dla użytkowników mobilnych jest tak ważne. Przede wszystkim, jak podaje specjalista SEO- Rand Fishkin, przez wyszukiwanie mobilne następuje pierwszy kontakt użytkownika z marką i ofertą firmy.
Ludzie przeszukują także Internet w poszukiwaniu informacji na temat produktów w trakcie zakupów.
Korzystają z urządzeń mobilnych podczas wyszukiwania informacji o miejscu do którego się udają, punktu usługowego czy rekreacyjnego, znajdując się w danym miejscu w terenie. Warto, więc poświecić użytkownikom mobilnym więcej uwagi, ponieważ już niebawem to oni będą dominować, a mobile przejmie zdecydowanie większą część rynku.