W dniach 10-11 czerwca mieliśmy niesamowitą przyjemność uczestniczenia w prestiżowych targach informatycznych It Future Expo. Była to druga edycja tychże targów, ale my z ekipą GranateSEO pojawiliśmy się na nich dopiero pierwszy raz. Jednak już teraz jesteśmy pewni, że był to zdecydowanie pierwszy, ale na pewno nie ostatni raz, kiedy pojawiliśmy się na tej imprezie!

Targi miały miejsce w Warszawie na Stadionie Narodowym. Trwały 2 dni.
Pierwszego dnia imprezy tzn. 10 czerwca, miała miejsce uroczysta Gala IT Future Awards, podczas której wyłoniono laureatów konkursu Liderzy IT 2015.
My również się na niej pojawiliśmy! Dzięki głosom internautów i Kapituły Konkursowej nasza ciężka praca została doceniona, a nasz zespół wygrał w konkursie Liderzy IT 2015 w kategorii Innovative IT Startup. Jak wspominają organizatorzy targów, celem konkursu było wyłonienie i nagrodzenie dostawców oferujących najbardziej innowacyjne i efektywne produkty, usługi oraz rozwiązania informatyczne. Za docenienie naszej pracy jeszcze raz chcemy w tym miejscu podziękować!
11 czerwca o godz. 9:00 rozpoczął się drugi dzień targów IT Future Expo. Przygotowania do tego dnia w naszym biurze trwały od bardzo dawna, chcieliśmy aby wszystko dopięte było na ostatni guzik. W dniu targów byliśmy, zatem bardzo szczęśliwi i podekscytowani, że możemy się Wam w końcu zaprezentować.
Jeśli chodzi o organizacje i obsługę targów to organizatorzy spisali się na medal. Miejsce targów również niecodzienne i wyjątkowe- elegancka Galeria na Stadionie Narodowym. Toteż było nam niezwykle miło spotkać się z Wami właśnie w takich okolicznościach.
Nasze stoisko znajdowało się na końcu korytarza po prawej stronie Galerii, nie trudno, zatem było do nas dotrzeć.
Zaprezentowaliśmy Państwu funkcjonalność naszego produktu, pokazaliśmy działanie programu GaranteSEO, a nasz zespół odpowiadał na wszystkie Państwa pytania.
W trakcie targów mieliśmy niezwykłą okazję do poznania Was Drodzy Użytkownicy, poznania Waszych opinii, wymiany doświadczeń, a także, co jest dla nas bardzo budujące otrzymać od Was wiele słów uznania. Jeszcze raz dziękujemy za tak liczne przybycie i zainteresowanie naszym programem. Cieszymy się, że pozyskaliśmy tak wiele nowych kontaktów, pomysłów i wrażeń. Wierzymy, że nie jest to ostatni raz, kiedy spotykamy się na takich targach i że okazji do spotkań będziemy mieć coraz więcej.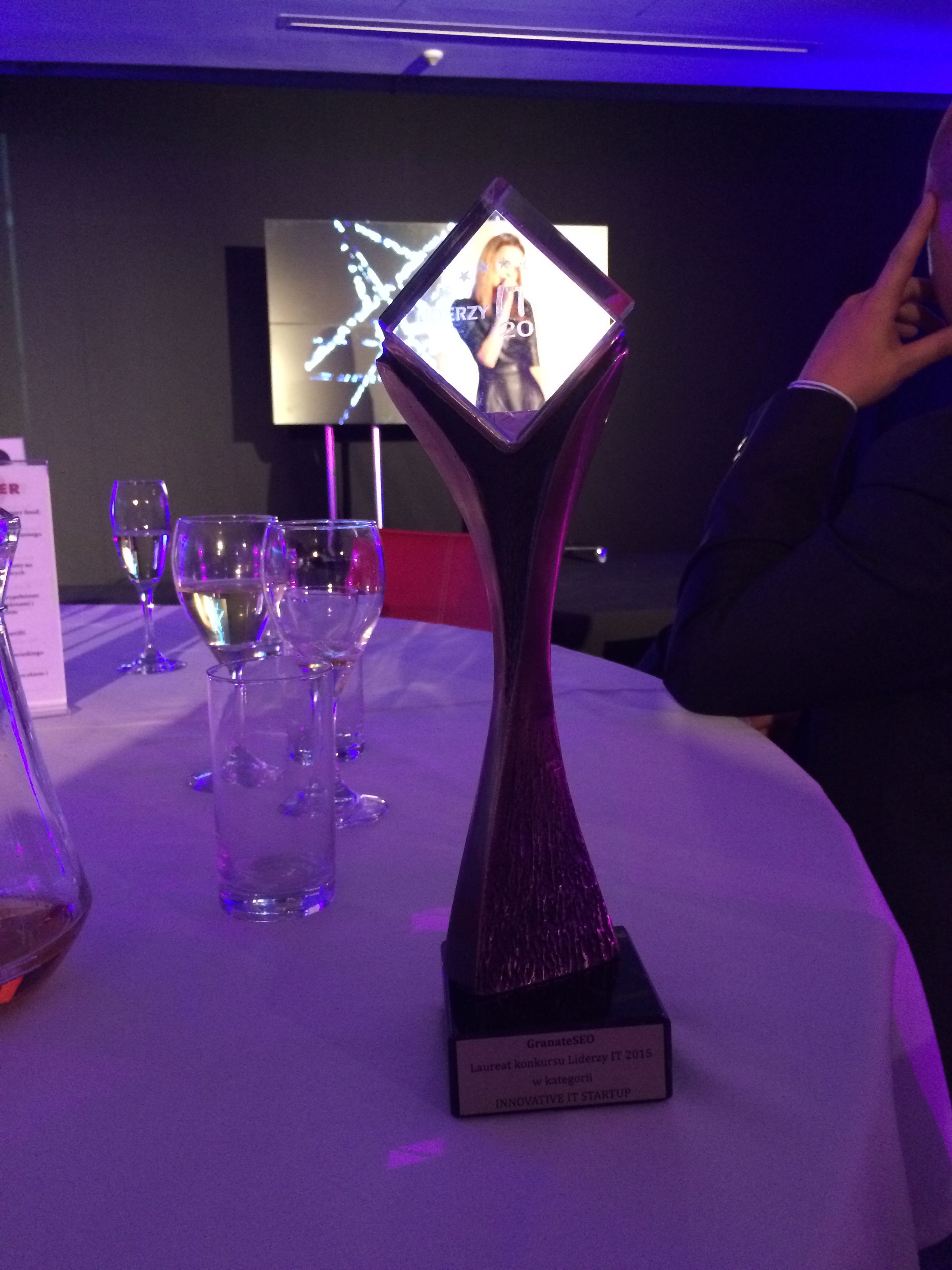 (fot.1 Statuetka Liderzy IT 2015 w kategorii Innovative IT Startup dla GranateSEO)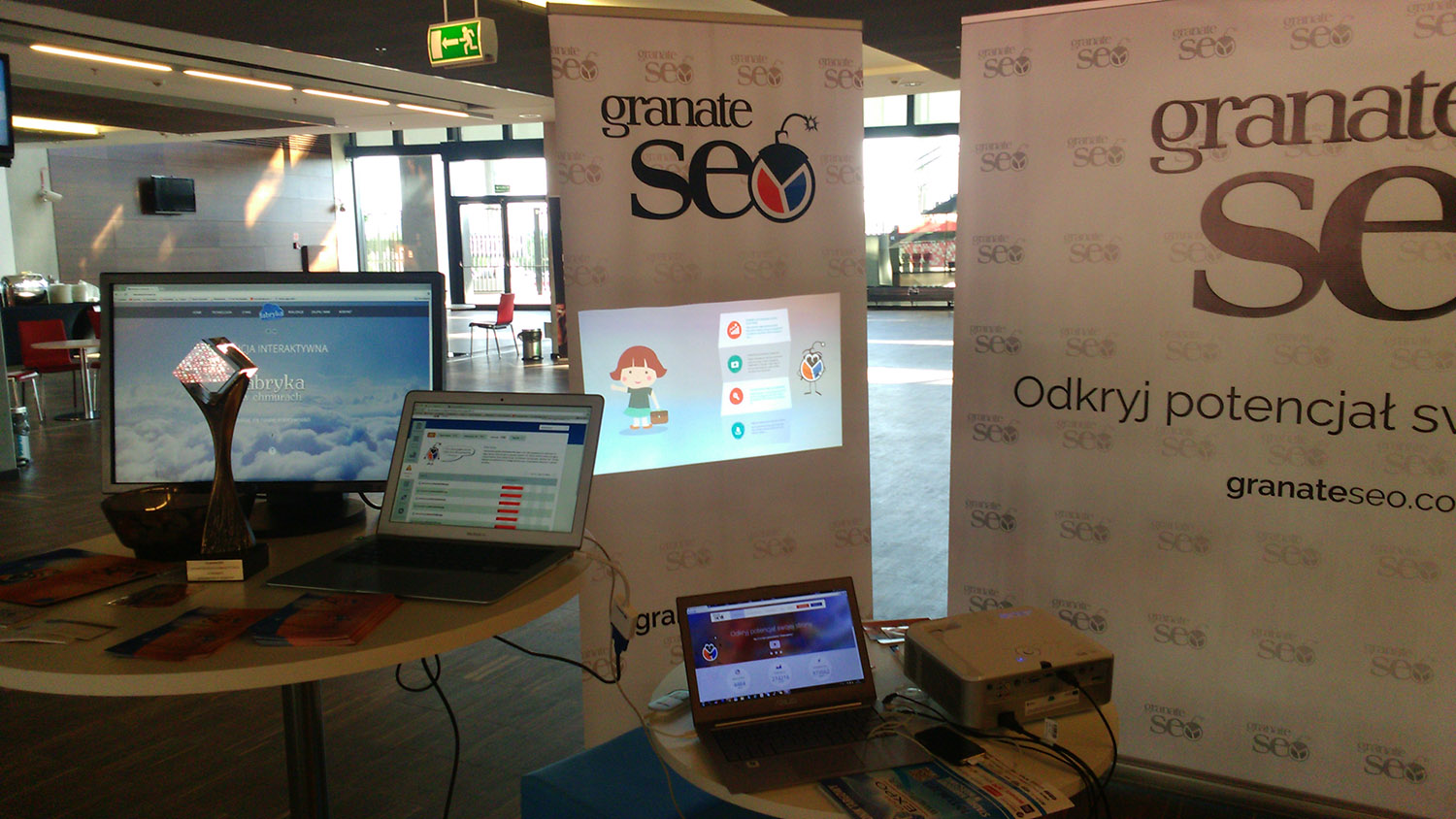 (fot.2 i 3 Stoisko GranateSEO na targach IT)